The POWER of PRINT!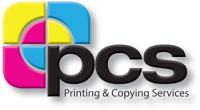 Successful communication in our media-saturated world requires multichannel communication. Send your message on the web, through personal communication, and through PRINT. We remember things we see in print longer and understand them more quickly. Let the craftspeople at UVA's Printing and Copying Services provide you with exceptional print communication solutions. We offer digital and offset printing, high speed copying, wide format signage, design services, bindery capability, and high volume mail handling. We can even create custom embroidery!
PHOTO CONTEST! Click here:
PCS News

MAILING A QUARTER MILLION POSTCARDS
The "Save the Date" postcards announcing the Bicentennial of the University are ready to go and our mailing staff is working diligently to complete the addressing and sorting in preparation for dropping four pallets of cards off at the post office. The management of a mailing list of a quarter million names and addresses fits well with the capabilities of the Printing and Copying Services. Our mailing team reviewed the list provided by the President's Office, making sure there were no duplications and that all of the addresses were deliverable. Running the cards through our addressing equipment took several days. Here Jessie Noel packages postcards into bundles sorted by zip code ready for mailing. All of the cards will be dropped at the post office this week and will be on their way to the many alumni and friends of the University.