Articles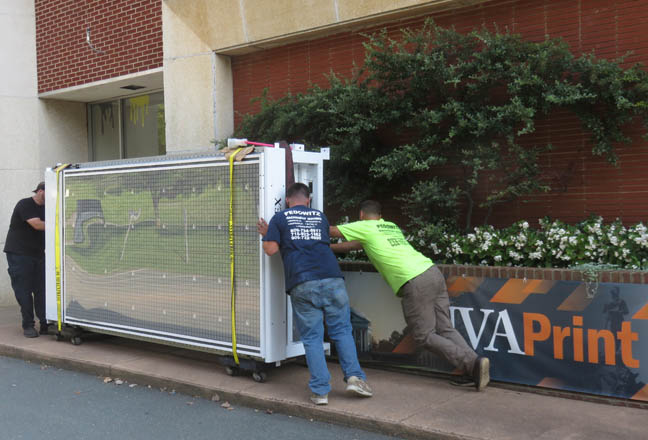 NEW EQUIPMENT
UVAPrint is excited to be expanding its wide-format printing department with two new pieces of equipment. Signs, banners, and posters will look better than ever! We can print on many different materials including the latest synthetic super-durable products. Additionally, we can now custom cut your product into unique shapes after it is mounted on any of a number of rigid sign materials. Contact us for a demonstration of our new capabilities and to price the job you may be preparing. Contact Josef Beery at 434 924-7186 or jb6y@virginia.edu to learn more!
______________________________________________________________________________________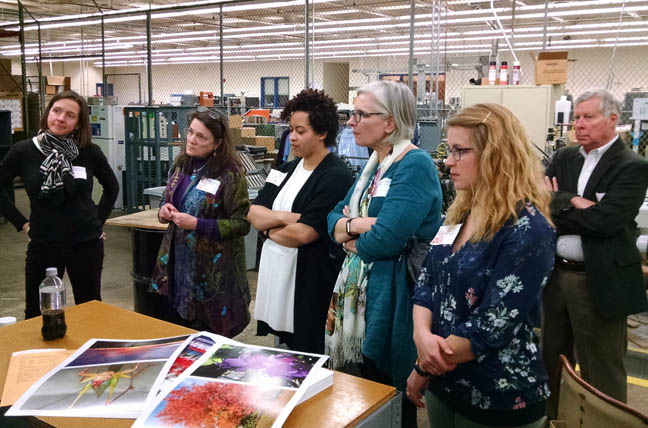 PROFESSIONAL EDUCATION
UVAPrint has begun a series of monthly roundtables to assist our customers stay up-to-date in our rapidly changing world of communication in print and on the web. These informal breakfast presentations provide a painless introduction to topics which can seem intimidating to those of us navigating daily technological changes. Providing information and discussion on everything from digital printing to US Postal mailing requirements and "augmented reality," these roundtables are a valuable resource for preparing effective communication. To attend our next session contact Josef Beery at 924-7186 or jb6y@virginia.edu.
______________________________________________________________________________________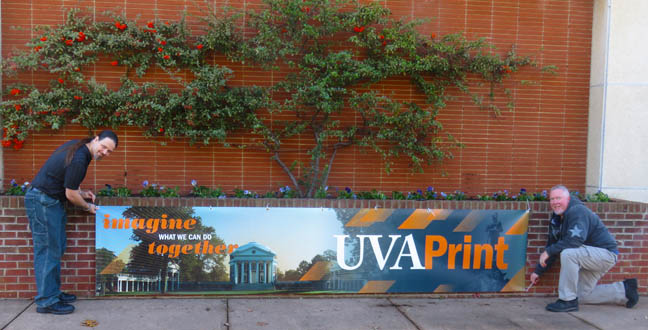 "UVAPRINT" UNVEILED
After several months of careful planning, we have recently introduced a new visual identity for Printing and Copying Services. The new UVAPrint logo will be used for marketing purposes and to provide an easily recognizable visual representation of our department. Our new logo is not division specific, but is representative of the entire department and all of our services as we provide print in many different ways. We hope that you will turn to UVAPrint any time you need to image materials on to paper or any of the new synthetic substrates. We offer conventional and digital full-color printing, wide-format printing, and design and mailing services, as well as a complete line of high-end digital imaging equipment for your office. We even recently entered the classroom, offering professors and instructors a testing imaging service. Our new name will not replace, but supplement "UVA Printing and Copying Services." You may also occasionally hear us referred to as "the University Printing Office," our original name. [Interestingly the designation "printing office" has been used for printing enterprises since the sixteenth century!]
______________________________________________________________________________________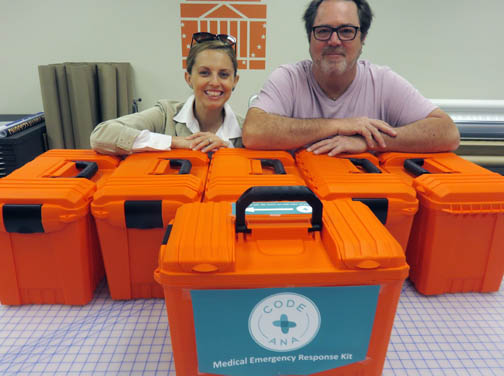 PROTECTING SCHOOL CHILDREN
Allergy anaphylaxis is a serious medical emergency. Dr. Alice Hoyt from the UVA Hospital and her team developed a rapid response program to be used by the staff of local schools when confronted with an anaphylaxis emergency. This summer Eric Cross in the UVAPrint Design Department worked with Dr. Hoyt to introduce the Code Ana project in Charlottesville area schools. UVAPrint produced advertising rack cards, informational brochures, and promotional stickers. The most exciting part of the job was creating emergency response boxes branded with the Code Ana logo for use in the Charlottesville Schools. UVAPrint is proud to be a part of this important project!
______________________________________________________________________________________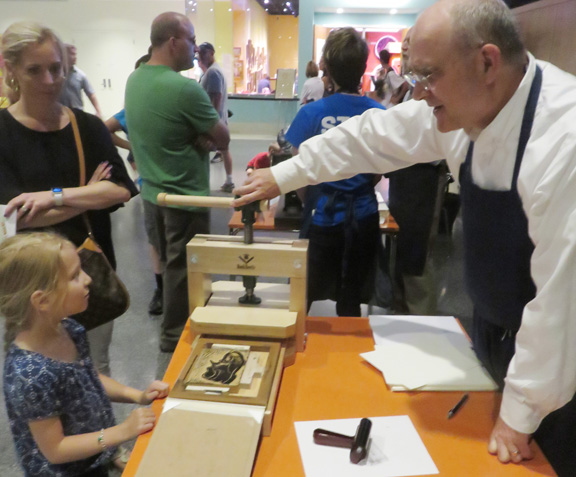 SMITHSONIAN WELCOMES JOSEF BEERY
Josef Beery, sales representative for UVAPrint, explains to Smithsonian visitors the difference between a "printer" and a "printing press." Young people found his hands-on demonstration press a fun way to become acquainted with the fundamentals of printing. Joan Boudreau, Curator of Graphic Arts at the Smithsonian called Beery's presentation definitely the "most popular activity" of those hosted for the annual Smithsonian "Print-O-Rama." Beery considers encouraging an understanding of print and the power of this vital communication tool an essential part of his job at UVAPrint. According to Beery, "The vast majority of us still prefer to read from print and it has been established that comprehension and retention are improved when reading from a physical object. Most important for those of us in the communication business, is the fact that reading from paper is more persuasive."
______________________________________________________________________________________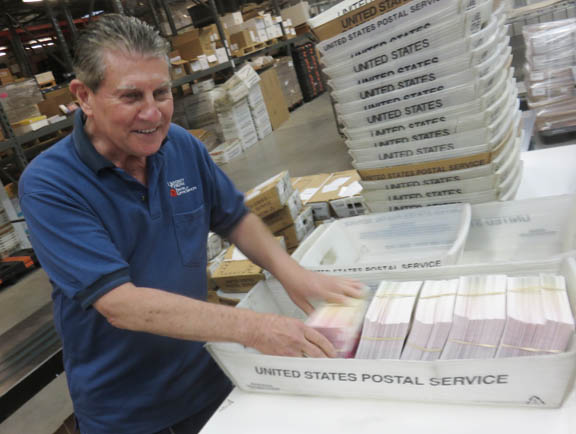 MAILING A QUARTER MILLION POSTCARDS
The "Save the Date" postcards announcing the Bicentennial of the University are ready to go and our mailing staff is working diligently to complete the addressing and sorting in preparation for dropping four pallets of cards off at the post office. The management of a mailing list of a quarter million names and addresses fits well with the capabilities of the Printing and Copying Services. Our mailing team reviewed the list provided by the President's Office, making sure there were no duplications and that all of the addresses were deliverable. Running the cards through our addressing equipment took several days. Here Jessie Noel packages postcards into bundles sorted by zip code ready for mailing. All of the cards will be dropped at the post office this week and will be on their way to the many alumni and friends of the University.
________________________________________________________________________________________

PRESIDENT'S OFFICE ON PRESS
Preparations for the celebration of UVA's 200th anniversary begin at the University printing office. Representatives of the President's Bicentennial Committee have been preparing their Save the Date announcement mailing. Here Elyse Girard and Rachael Eller review a fresh printed sheet that has just been pulled off the five-unit Heidelberg offset press. They review the color to make sure they have a perfect match to the digital proof they approved earlier in the process. Production manager Stephen DeLuca stands by to answer questions.
________________________________________________________________________________________

EIGHTEENTH-CENTURY PRINTING BROUGHT TO LIFE
Printing and Copying Services is proud to assist the University in teaching students about the history of printing. The information revolution of the past several decades has brought a new focus to the important role print has played in preserving our intellectual and cultural achievements. Here Josef Beery of PCS gives a demonstration on a replica eighteenth-century printing press to students at the University of Virginia's Rare Book School. The working press built by University Special Collections Librarian Clinton Sisson and others in the 1970s is now on display in the south exhibition room of the Harrison-Small building. Rare Book School students also visit the University printing office (what we now call PCS) at its facility on Old Ivy Road to learn how books and publications are printed today.
________________________________________________________________________________________

FLEXING OUR MUSCLE
We love showing off a little. The school year always ends with a big push here at the UVA Printing Office. Printing and Copying Services is responsible for preparing the Finals Programs used at the celebration of UVA's graduating students each year. This 56-page magazine-size "program" lists every student receiving a degree in each of the eleven Schools of the University plus the College of Arts and Sciences and the Data Science Institute. Doctors of Philosophy have their dissertation title included with their name, and every undergraduate receiving honors is noted. Recipients of Student and Faculty Awards and members of Honorary Societies are listed. And rounding it all out are the words of "The Good Old Song."
          The most daunting task, of course, is accuracy. Working with the University's Registrar's office, our experienced team of compositors and proofers carefully ensure names are spelled right, titles are correct, and no one is forgotten.
          Printing is monumental. The almost 40,000 programs contain close to two-and-a-quarter-million total pages. The job requires over eight skids of paper, each skid weighing close to a ton. Moving this much paper quickly and efficiently through our printing and binding equipment gives each member of Printing and Copying Services a chance to demonstrate the skills they have mastered in their years of service to the University. The result is a printed piece which we know will be cherished in the homes of many for years to come. It is our great honor to participate in the production of this document recording the accomplishments of the University of Virginia each year!