PrintClick

Printed pieces with expanded digital capabilities!
INFORM
Connect your printed piece easily to your latest updates. Supplement content with links to more detailed information in PDFs or other digital documents. Provide your readers access to expanded content on a website. Give detailed directions and maps by connecting with way-finding apps. Offer scheduling and appointment information with direct access to digital calendars.
PROMOTE
Expand your content with explanatory videos, sound recordings, blog links, order forms and shopping sites.
Link to additional information.

Give your printed piece functionality.

Replace catalogs, directories.

Provide personalized responses.

Add multi-channel content: videos, social media.

Analyze audience interaction.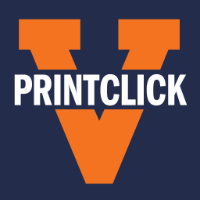 ENGAGE
Enable your audience to respond to your message through direct emailing, text messaging, and phone dialing. Allows you to provide direct, personalized response to questions as they occur. Allow reader to add themselves to a contact database.
DEMO VIDEO
Watch the demonstration video linked here to see PrintClick's software (Ricoh's Clickable Paper) in action:
SOCIAL RESPONSE
Connect your printed piece seamlessly to Instagram, FaceBook, and Twitter.
ANALYZE AND COORDINATE
Track reader clicks and data to analyze message impact and coordinate further interaction.
HOW DOES IT WORK?
PrintClick is a new product from the UVA Printing Office which gives your printed piece immediate access to the internet through a smartphone app. The app is a free download from the Apple App Store and GooglePlay. Once installed on your audience's smartphones, they continue to have extended access through your print publications.
REPLACES CLUNKY QR CODES
PrintClick uses a unique visual target created for your particular message. Any signpost graphic you like will work, you can even use the unique layout of your page. Captured as a PDF this graphic is loaded into the PrintClick! database as your custom connecting target. A print piece can contain as many of these graphic links as you like. Each linking graphic will connect the user to a directory offering six further links.
POSSIBLE APPLICATIONS
To learn more about a course, a student can snap a photo of a flyer and be taken instantly to a listing which provides: a video intro to the course, the home page of the course website, a PDF of a magazine story, a webpage of suggested readings, a link to a sign up form, an email or text to directly contact the instructor. Similarly a postcard arriving in the mail to announce an event could be photographed with a smart phone and take the reader to: a video advertisement, an updated schedule of events, a custom map to the venue from the reader's location, a sign up sheet, and a contact link for questions.
Marketing Campaigns

Event Coordination and Planning

Course Advertising

Product Introductions
TRACKING AND ANALYSIS
The PrintClick app gives the publisher a number of web-based analytical tools to monitor the use of PrintClick! for a particular project or campaign.
MORE PRINTCLICK INFORMATION
For further information on how you can use this new product, contact Josef Beery, print representative for the University Printing Office.Call 434 964-6886 or Email jb6y@virginia.edu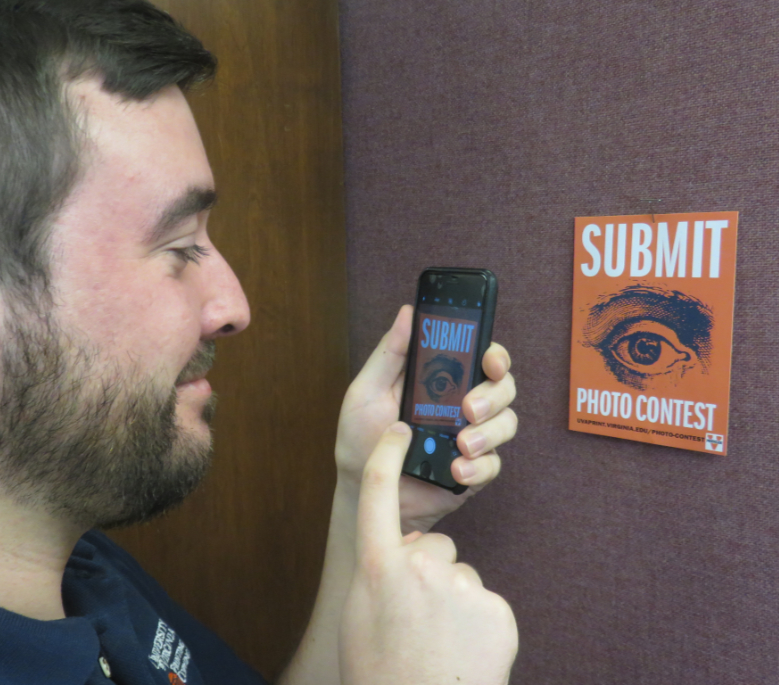 FAQS
What is PrintClick?
PrintClick Is a free smartphone app which connects the user directly to the internet by simply snapping a photo of a printed piece.
How do I get PrintClick?
Contact Josef Beery. Your PrintClick functionality will be created for your custom needs by our technicians.
Do I need to create an account?
Yes, we will assign you a unique account for you to login and monitor your campaign's usage.
How do I use PrintClick?
Download our free app from the Apple AppStore or GooglePlay. When the app is open, snap a photo of the printed piece using PrintClick and it will connect to a digital directory offering six different links to the internet.
I can't download PrintClick.
Contact UVAPrint to troubleshoot any difficulties you may have.
I cannot read an image?
Contact UVAPrint and we can troubleshoot any problems you are having.