Your Communications Partner!
UVA Printing & Copying Services is here to help you maximize the exposure of your message. Print holds its own in the world of multi-channel communication. UVAPrint offers digital and conventional full-color printing as well as a diverse fleet of office printing and copying equipment for lease. With full design, mail, and wideformat capabilities we are your best choice for low-price, top-quality printing. We offer friendly customer service, quick turnaround, and free delivery. And we can assist you with the new University branding requirements. We even offer custom embroidery for personal apparel or promotional items! Contact Josef Beery at 924-7186 or jb6y@virginia.edu for help with your project.
PCS News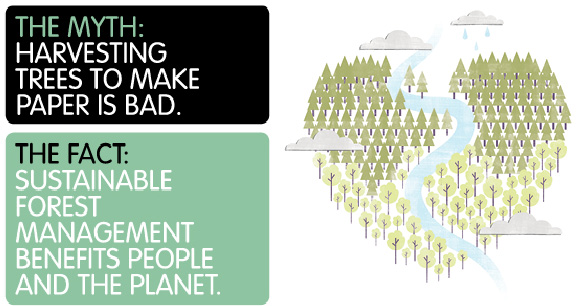 WHAT IS GREENWASHING?
Greenwashing is the attempt by corporations and institutions to persuade people that using paper is harmful to the environment. In fact, paper production and use is a highly sustainable practice. Wood fibers can be grown, sourced and reused in a responsible way. Maximizing the use of recycled fibers and sourcing virgin fiber from credibly certified natural forests and plantations can reduce paper's ecological footprint. Replacing paper with electronic communication to save the environment is a specious argument because it is now well established that our laptops, phones, and other digital devices place a heavy toll on the environment through energy use and the production of greenhouse gases.
UVAPrint recently joined forces with Two Sides North America, a global initiative by companies from the Graphic Communications Industry to promote the sustainability of this industry and to dispel common  environmental misconceptions by providing users with verifiable information on why print and paper is an attractive, practical and sustainable communications medium.
Look for more information on this exciting program posted soon on this website and at public printing devices around the University.